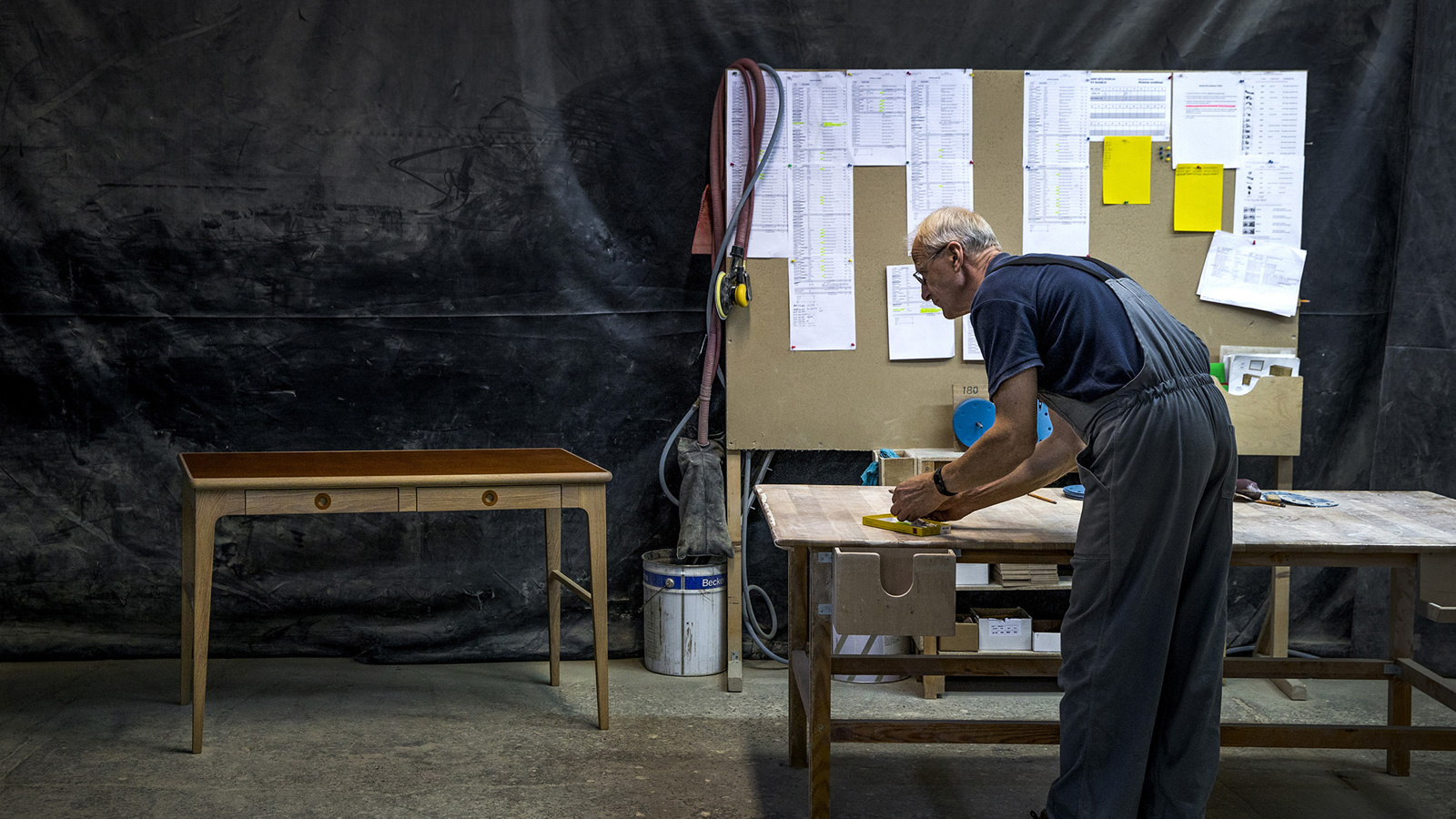 About us / History
We began to manufacture furniture – beds – in 1917. At that time we operated under the name of Bröderna Johansson Sängfabrik AB. A solid, stable name. People didn't complicate things so much in those days. There were few or no flashy company names or product names. One best-seller at the time was "Turistsängen TOR". A collapsible travel bed or extra bed.
Tor Over the years, the company became better known as "the bed factory" and, among furniture dealers, it was synonymous with solid beds. All manufacturing took place at the company's own factory in Smålandsstenar.
In 2008, we made the biggest change in the company's history when we changed our name to MAVIS Möbler AB and moved all production to the Baltic States. You may ask why.
We wanted to avoid the limitations involved in having our own production, in terms of materials, machinery and staff.
We wanted to manufacture other pieces of furniture: cabinets, shelves, chests of drawers and tables – complete items of furniture, not "just" bedroom furniture.
Nowadays, MAVIS doesn't manufacture anything in-house (read more about this under our production). We manufacture beds, bedside tables, bunk beds, children's beds, cupboards, chests of drawers and other storage furniture.
Our Production
How do you make a really good piece of furniture? For us, it's a question of the people behind it and their skills rather than where we manufacture it. We've known our partners for a long time – much longer than we've been called Mavis. Perhaps that's the key, the fact that we're a single group, not several.
We manufacture in Latvia and Lithuania, where we have solid professional knowledge. We often say that it's locally produced and, by definition, I suppose it is. Our main partner has three factories that we work with and different production methods for different materials. They are spread out up to 200 kilometres from Riga
They consist of modern, well equipped facilities. How otherwise could we guarantee consistent high standards for the end product? Of course it takes a little time to manufacture our furniture, but professional skill and pride can't be hurried. For that reason, we stock almost everything in our warehouse, so you don't need to wait. Also, nearly everything is assembled, because that's how I myself want quality furniture delivered.
We manufacture only our own designs. Of course we use fantastically clever designers, but we don't "buy in" ready-made shelf products. We spend a long time working on the furniture. Ideas and suggestions are discussed with designers. And finally, we've managed to produce a piece of furniture that we want to own, that we're proud to show off.
Many years ago, I sat in a meeting with a group of very serious gentlemen in North America, just about to sign an agreement. For some reason, the agreement had to be read out aloud before being signed. I stumbled on the word "proprietary" (a real tongue twister). The word means "intellectual property rights". When I formed MAVIS, I made a mental note of it and we made it our own;
We own our expression, we own our design.
It doesn't need to be any more complicated than that. That's how we create MAVIS expression and quality that's manufactured with pride to last a long time. Furniture with a memory.
//Magnus

Environment according to Mavis
ENVIRONMENT ACCORDING TO MAVIS
The objective is to attempt to leave as small a footprint as possible in our environment. For that reason, we don't automatically take the easy way out to achieve the best combination of price and quality. Instead, we tried to think in terms of the surrounding environment. What will have the least impact on the earth? Where we have a sustainable choice, we consider it natural to choose the environmental option.
A few examples.
We use FSC-certified suppliers to the greatest possible extent when we manufacture using solid wood FSC promotes consideration of the ecocycle and taking responsibility for forestry, the environment and replanting wood for the next generation.
In order for us to be able to put our name to a product, we want to know what it contains and for that reason we require our producers to show an MSDS (material safety data sheet). It states what materials and chemicals are contained in the product. In that way, we avoid using dangerous or unhealthy substances.
We naturally apply only E1 standards for use of formaldehyde. 
Paints and lacquers are water-based as far as possible. 
We closely monitor the state of the market. The objective is to be on the leading edge, but we don't jump on anything that's untested. We'd rather do a good job using tried and tested methods than use undocumented processes. 
We prioritise manufacturing in our local area (Northern Europe) to avoid long-distance transportation and therefore emissions.
We are, to sum up, truly engaged in local, practical environmental work.
The most important thing of all: we never make promises we can't keep.
** "FSC, the Forest Stewardship Council, is an international organisation that promotes environmentally friendly, socially responsible and economically robust use of the world's forests. 
FSC-certified forests are subject to requirements including respect for the rights of indigenous populations and care for biologically valuable forests in a way that preserves their natural values."

Quality
QUALITY ACCORDING TO MAVIS
The answer's easy. You're so happy and satisfied with your new furniture that you recommend us or buy another product from us.  Preferably both.
In short, we want you to come back, not the product...
For that reason, we work on the basis of an overall perspective.
From the choice of materials, where we continually test their durability, to good packaging that protects our products all the way home to you.
If, contrary to expectation, anything goes wrong (we're only human), all our products are traceable. In simple terms, that means that we can quickly locate the source of the fault.
If the packaging hasn't been handled right so that something gets broken or parts are missing, we'll naturally help to make sure that your new furniture is complete as quickly as possible.
Packaging exists, first and foremost, to protect the product, but there is also an environmental aspect to our packaging. We try to pack smart and not use more material than is necessary to protect the product from dirt and chips. We know that the people who get our products from us to you handle them with the same love as we do and wouldn't do anything that would clearly damage them.
To sum up: quality is how you experience our products. Not the promises we make in a written text. 
We live by the motto: "The bitterness of poor quality remains long after the sweetness of the low price is forgotten"